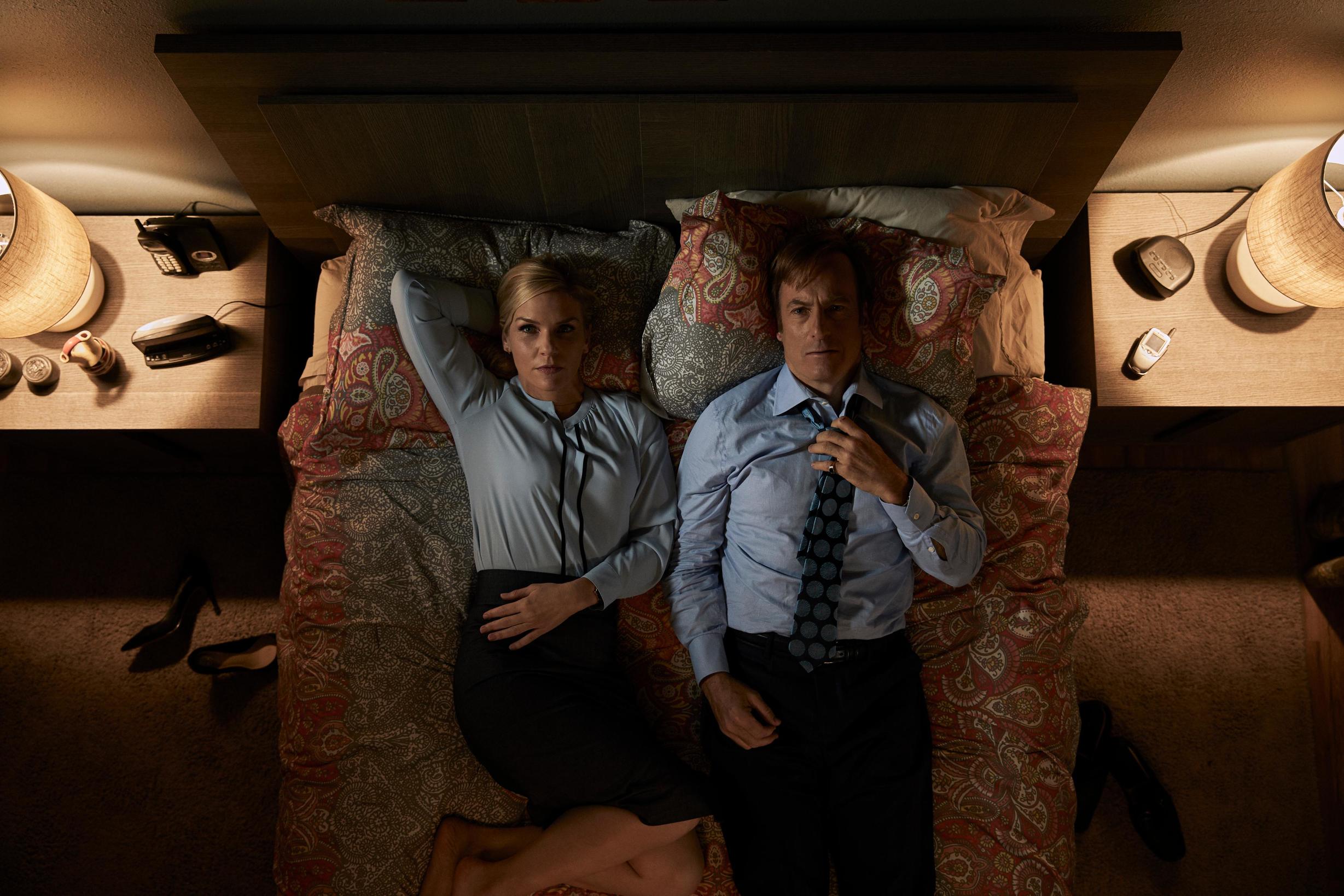 The lens, composition, plot, performance, details, themes and other aspects of this season are as good as ever. I have said too many related "compliments", and some old sayings will not be repeated... Even so, I Still want to say a few more words for the fifth season of "The Coquettish Lawyer".
The audience thought that the closer the show was to the end, the less suspense would be, but it turned out that there were more unknown mysteries. Just the fate of Jin, Lalo, Nacho and others made people anxious...
full of laughter
Vince Gilligan once said in an interview how to distinguish between "Breaking Bad" and "The Lawyer": the former is 80% drama + 20% comedy, the latter is 80% comedy + 20% drama - this season's lawyer's There are more and more laughter points, and it is my normal state to be overjoyed.
There's pure hilarity in it.
The most typical scene is the scene where the triplets look at the portrait at the same time, which perfectly "represents" the current catchphrase: Children, do you have many question marks?
What impressed me most was the scene where Lalo poured Hector's "healthy drink", after tasting the drink, Hector's eyes/expression instantly lit up!
Some laughs are linked to the plot before and after, and even make people laugh: After Lalo returned to his hometown in E10, he opened the car window to reveal a frozen, infiltrating smiley face. Anyway, my mood when I saw it was the same. The guy who guards the door is very similar, so happy that he wants to shoot in the sky...
In love with a "villain"
The most intriguing villain in this season of "Beautiful Lawyer" (maybe even the entire "Beautiful Lawyer"): Lalo Salamanga. To understand this character, the best entry point is his smile.
When Nacho desperately ran back to the distribution den to "rescue" the white powder in order to win his trust, Lalo completely took it all as a drama - he laughed and teased Nacho's fate, proving that he didn't care about most things in the world.
Lalo gave a "ridiculous" sneer when Jimmy uttered his so-called motto, "Justice is the most important thing."
Lalo's smile is more of a self-confidence and calmness that sees through and decides on others. For Jin, who doesn't want to deal with more, he dismisses people with a lot of giggling. Lalo is a high-ranking player in the dark world. For different people, he often makes judgments at first glance, and even sets a price.
But Lalo, who is smiling all day, is by no means a naive and foolish critic. His self-confidence that he will never drop the line has the biggest premise: enough deadly danger.
Lalo has never been dragged down by the occupation and identity of a "criminal", let alone confused, which makes him live a very pure life.
Even when he was learning to make changes slowly and trying to accept Nacho as a family member, Lalo didn't falter at all, just like his usual dashing energy, smiling to relieve his worries.
Lalo is a "villain" with almost no weaknesses. He has all the thickness, breadth and depth that he should have. If Gustavo hadn't brought a group of people to play with him, Lalo would not have lost...
Even if it is the "extreme anti-kill" that has been criticized by many people in E10, a precondition should be considered: if you don't sleep very little every day, and you are vigilant enough even in your own home, the group of killers, no matter how weak they are, can sleep in. Lalo on the bed was killed.
It is such a man with almost no dead ends, who fell into the ground under the calculations and deceptions of Gustavo, Mike, Nacho, Bolsa, Jimmy and others, and almost lost his life...
Maybe, from this day onwards, Lalo will never show a smile again--by that time, will you feel distressed or in awe of the "unrecognizable" Lalo?