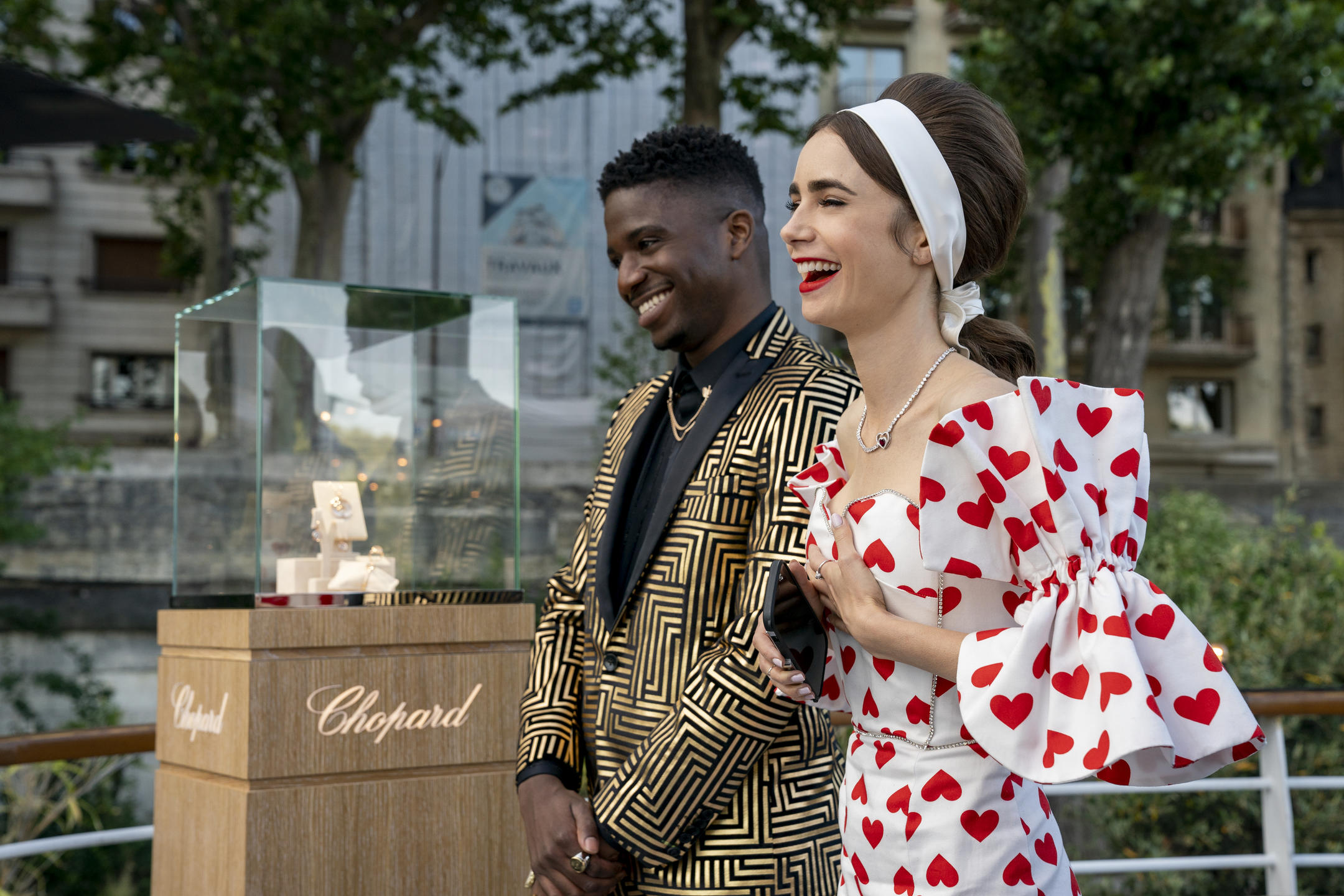 Season 2 of Netflix's hit 'Emily in Paris' starring Lily Collins is on! Following Emily, Camille, and Chef Gabriel's appetizing taboo romance, yearning work life, and wonderful girlfriend friendship in the first season, the second season will take the audience to a better understanding of the madness of Paris from Emily's perspective and dreamy!
In addition to the complicated relationship between Emily and Chef Gabriel, the good friendship between her best friends, and the great change of supervisor Sylvie on Emily, there are more unexpected plots. Let's take a look at the 6 most anticipated highlights of the second season!
Highlight 1: Emily and Gabriel's relationship is getting stronger and stronger
Do you still remember the ending of the first season with the hot night of Chef Gabriel and Emily? Originally Emily just wanted to say goodbye to Gabriel, who was about to leave Paris, but unexpectedly developed!
What's even more breath-taking is that the next day Gabriel received good news that someone was willing to invest in the restaurant, which made Gabriel decide to stay in Paris.
Camille originally planned to break up with Gabriel because Gabriel was leaving Paris, but after hearing the news that Gabriel decided to stay in Paris, Camille guessed that there must be something hidden in it, and the whole atmosphere was so embarrassing!
Highlight 2: Emily looks more and more like a French?
The screenwriter revealed that in the second season, Emily will be more integrated into French life, and she will also encounter some difficult choices. In the trailer, Emily said to her best friend Mindy: "I used to be decisive, but since I moved to Paris, my life has become chaotic, exaggerated and complicated!"
Even the supervisor Sylvie said, "Emily, you are becoming more and more French!" The super mean Sylvie recognizes Emily in this way. I can only say that the plot of the second season is really exciting!
Highlight 3: The scene is not only in Paris
Lily Collins revealed in an interview that the scene of the second season is not only in Paris, but also seen in the preview that three girlfriends are on vacation together, and the whole picture is a fashion show at all!
Although the relationship between Emily and Camille is not sure if there will be any change because of Gabriel's relationship, it can be seen from the preview that their relationship is getting better and better!
Highlight 4: Emily gets rid of Gabriel and starts a new relationship
There are new faces in the second season preview! Lucien Laviscount plays the American who takes French class with Emily in the play. Although the two have different ideas, they eventually fall in love. Emily's love life in the second season is really exciting!
Sylvie also encouraged Emily: "While you are still in Paris, you should have a good relationship, don't be afraid to make mistakes, please, enjoy it!" With Sylvie's words, Emily's love skills should be greatly upgraded!
Highlight 5: Emily and supervisor Sylvie upgrade as friends
Although the supervisor Sylvie made various difficulties and exclusions for Emily at first, the reason for the second season is because Sylvie wrote a contract letter, because Emily's crisis management and enthusiasm for work seem to be slowly melting Sylvie's Heart!
The content of the letter of appointment expressed the hope that Emily's tenure in Paris would be extended. Not surprisingly, even the letter still could not hide Sylvie's savageness, such as Emily's overconfidence, lack of luxury sales experience, and no knowledge of French. But in the end, Sylvie secretly confessed that her colleagues in the company like Emily in Paris!
Highlight 6: Further uncover the lives of Mindy and Camille
In addition to Emily's wonderful life in Paris, the second season will also let you know more about Mindy and Camille! Mindy was originally shot in the talent show, so she no longer dared to sing, but Mindy in the second season became a singer, which is definitely a super inspirational and inspiring story.
Camille is a gallery owner, but the first season did not have too many clips about her workplace. I hope to see more pictures of Camille's work in the second season. In addition to feeling full of French charm, it can also make the audience feel more about life in Paris. More longing!